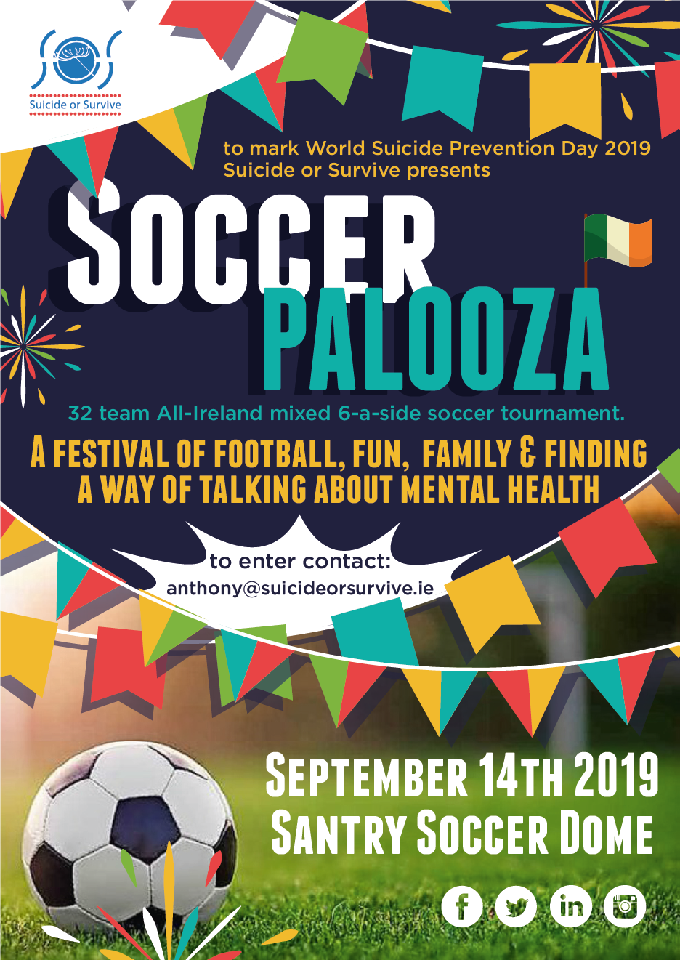 WORLD SUICIDE PREVENTION DAY
SOCCER PALOOZA 2019
Join us and become a Founding Team of SOS World Suicide Prevention Day Inaugural 32 team "Soccer Palooza" Tournament on Saturday 14th September 2019. We need your help to raise awareness of SOS and WSPD, raise funds and firmly establish this International Day in Ireland. It's six and mixed and with your help its going to be incredible.
Reasons to Get involved:
It's a Fun, new and fresh fundraising and awareness raising event.
Your company and staff will play a tangible part in our drive to breaking down the stigma associated with suicide & mental health issues and working to ensure that those affected have access to quality recovery services.
Assist SOS in leading the way through active collaboration which we believe will drive positive social change
Works as a great team building exercise as you encourage your team through sport & wellbeing to engage in fundraising as they build momentum leading up to World Suicide Prevention Day & "Soccer Palooza"
It's a Festival of Football, Fun, Family & Finding a way of talking Mental Health!
Donate or fundraise €400 per team (6 players & 2 Subs) to enter.
Once Entered here on Primo , you will be fully supported by your personal relationship mananger for the Event on all aspects running up to the tournament. On Entering you will be sent a promo pack including all details on tournament , artwork , letter of authority, sponsorship cards , and all the help needed to organise your team and supporters to raise additional fundraising through our campaign page on Everyday Hero , where you will also be set up with your own fundraising page so all your team can contribute.
Its mixed 6-a-side teams so everyone can get involved , all ages and abilities welcome.
Suicide or Survive works within communities to prevent suicide by creating and delivering innovative approaches that educate, inform and inspire people to cultivate good mental health and reduce stigma leading to less death by suicide. For more information on our programmes visit www.suicideorsurvive.ie www.wellnessworkshop.ie www.youmatter.ie