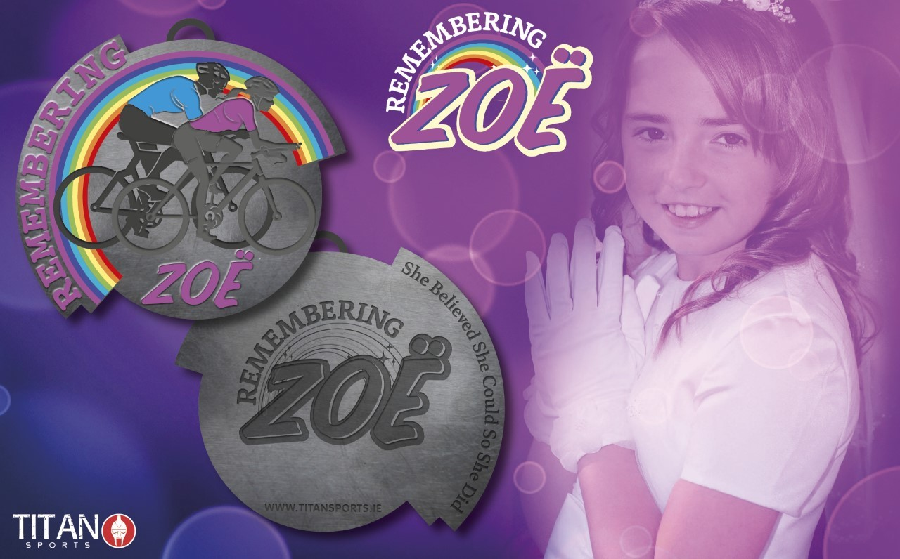 Welcome to the 2017 Remembering Zoë Cycle Challenge. Thank you for registering for this event, your support for our nominated charities is greatly appreciated.
In 2017 the nominated charities are the Butterfly Club, the Irish Community Air Ambulance and the HOPE Foundation.
By registering on-line you are automatically entered in a draw for the following spot prizes:
€100 voucher for O'Sullivan's Cycles, Killarney
€100 voucher for iBikes Cycle Shop, Killarney
All participating cyclists will receive a specially designed finishers medal.
With the proceeds of the 2016 events, the Remembering Zoë Committee donated €13000 to the Abbeyfeale Town Park which is funding improvements in the Park, i.e. installation of a 30 metre Zipline, provision of an Autistic Play Area and painting of the existing Playground Equipment and Fencing. Remembering Zoë also donated €3132 to "Make-a-Wish" Foundation and €1000 each to both the Abbeyfeale Community Games and the HOPE Foundation. By your continued support for the Remembering Zoë events you are making a real difference to children's lives, Thank You.
Remembering Zoë Committee.
Please select your preferred route below (110Km / 75Km / 40Km)
Looking forward to seeing you in Abbeyfeale on Sunday May 14th
Hope you have a very enjoyable day
Safe Cycling
Thank you for your support.
From the Remembering Zoë Committee.