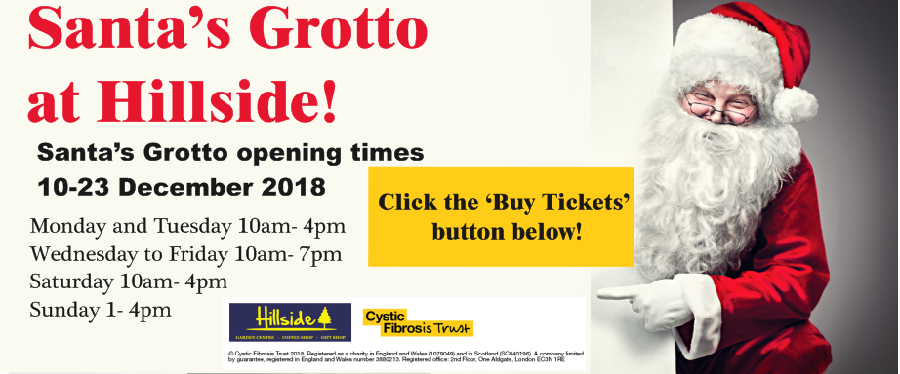 We are so excited to invite you to join Santa, Mrs Claus and all the elves to our Magical Grotto at Hillside Nursery Centre Newtownabbey. There are lots of fun activities to entertain all the boys and girls including Mrs Claus's kitchen where you can bake cookies for Santa, shine Santa's boots, hang out the elves washing and sit in Mrs Claus's rocking chair, you can play games with our mischievous elves and write your letter to Santa. All the boys and girls coming to see Santa, will travel along a magical path leading to Santa's Log Cabin where you can post your letter in Santa's North Pole post box and receive a lovely gift from Santa and the elves.
Professional photography will also be available at the Grotto, for your families' perfect souvenir of this magical grotto experience. Prices start at £10 per photograph.
Booking for the Grotto is essential due to the limited availability of tickets, so please follow the above instructions on how to purchase your tickets. Please bring along a printed or e-ticket on your phone/tablet when you visit the Grotto. If you have any queries please don't hesitate to call Santa's Little Helpers on 07841996586.
The funds raised at this year's Grotto will once again support the work of the Cystic Fibrosis Trust who appreciate your support.
To find out more about the work of the Cystic Fibrosis Trust please see www.cysticfibrosis.org.uk
Admission Prices
Child £10
Adult £3
Child Under 2 - £5
Prices include – Refreshments on arrival, fun activities, visit to grotto, a gift from Santa. (Photograph not included in price)
Please Note: Bookings are limited to 6 people per group. All children and infants must be accompanied by an adult with a valid ticket.
registrations are not available
The event is closed.