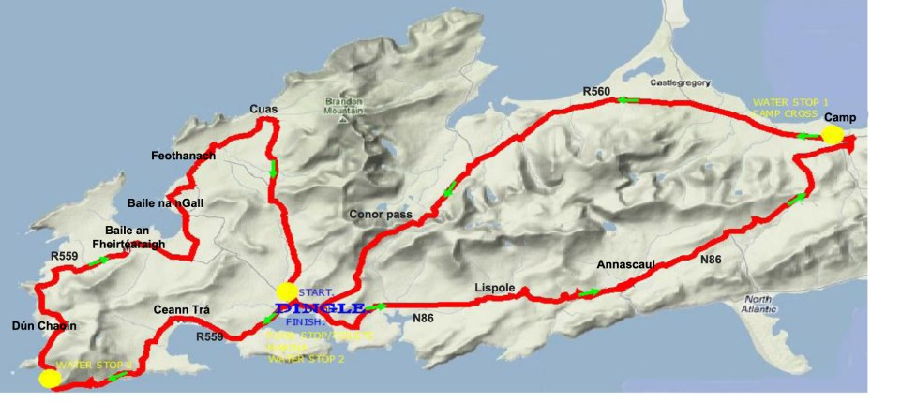 Join us for our exciting Dingle Cycling Challenge 2018 on Saturday 5th May 2018 taking place during Feile Na Bealtaine over May Bank Holiday weekend.
ONLINE registration is now closed. - Registration & sign on available in Dingle Pobalscoil
Friday evening - 6pm - 8pm
Saturday morning 7:45 am to 9am
Starting Times
09:05am
Leg 1 of 120K - 65KM - Dingle - Lispole - Anascaul - Camp - Aughacasla- Connor Pass - Dingle
09:15.
Slea head Challenge 58km
Dingle - Ventry- Slea Head- Mulcahy's (Waterstop) - Ballyferriter - Ballydavid - Cuas- Dingle
Leg 2 of 120KM -will start about 45mins after lead riders return from Connor Pass ( 12:45- 13:00) - Slea Head - 58Km
Event Finishes at 17:30. - No Overnight Parking in School as gates locked for weekend.
Starting at the Pobalscoil in Spa Road, Dingle at 9am travelling to Camp via Lispole and Annascaul returning to Dingle via The Conor Pass - Irelands Highest Mountain Pass.
Then after a short break at the Pobalscoil - cycling to Slea Head via Ventry, enjoying the great scenery - continuing to Ballyferriter and Cuas and returning to Dingle. Total distance 120KM.
If this seems too much of a challenge why not try our Slea Head Challenge, starting in Dingle Shortly after the main event and travelling west to Slea Head via Ventry, enjoying the great scenery - continuing to BallyFerriter and Cuas and returning to Dingle. Total 55km
Both Cycles start and end at An Pobalscoil. After you have completed the event join us for our famed BBQ with loads of food and fun for everybody
http://feilenabealtaine.ie/home/
http://www.dingle-peninsula.ie/home/what-s-happening/festivals/item/feile-na-bealtaine.html
All profits from the Cycle go towards local Charities and Causes.
registrations are not available
The event is closed.
This Event will be run under the rules of Cycling Ireland.
By Signing up for this event participants agree with the following rules.
Participants must:
Have a bicycle that is in good working order (which complies with relevant Technical Regulations);
Wear a hard-shell helmet;
Be mindful of the need to act in a manner that takes account of their own safety and the safety of others;
Ensure their fitness level is appropriate given the nature of the event;
Be conversant with and obey the rules of the road;
Familiarise themselves with the event route;
"Sign-on" for the event
Be aware that marshals are not empowered to stop traffic;
Obey the direction of marshals and An Gardai