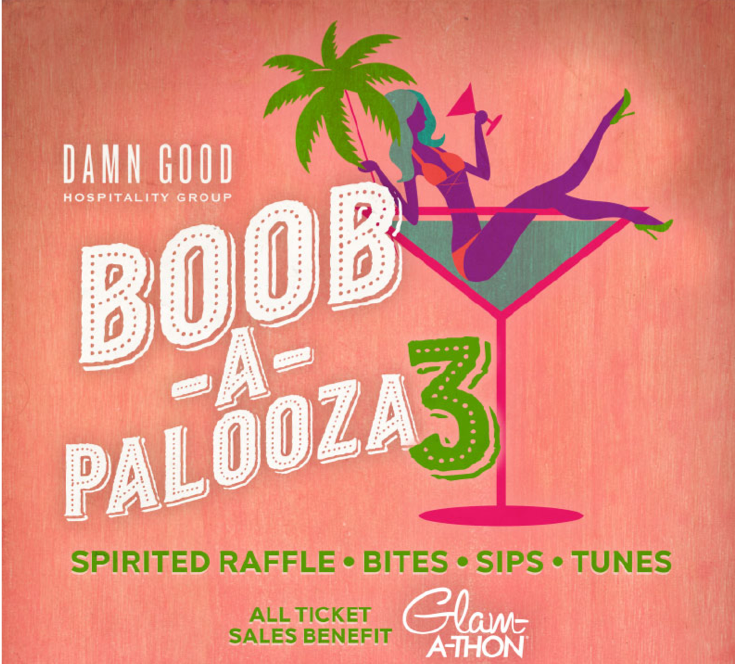 BOOB-A-PALOOZA 3
registration
review
confirmation
Join us for GlamATHON Strut at Stache's bOObapalOOza in support of Glam-A-THON.
Date: October 11th
Time: 6 p.m. - 9 p.m.
Location: Stache Drinking Den + Coffee Bar
109 SW 2nd Ave, Fort Lauderdale, Florida 33301
Glam-A-THON's Strut is getting a makeover. The wildly fun event is changing up! Details are still in process, so keep up your fundraising, support our partners and let's cocktail to #kissbreastcancergoodbye at Stache's bOOb-a-palOOza.
Cost: All team members who joined a team and paid The Strut registration fee are invited as a guest to attend this event.
Glamfriends and supporters who join us will pay $25pp, with 100% of proceeds benefiting Glam-A-THON™.

Guests will be treated to:
• One Featured Cocktail Ticket shaken and stirred from Stache Drinking Den bartenders.

• The Funky Buddha Beer Experience featuring beer samples and bites from Chef Jeff Vincent, Craft Food Counter + Kitchen

• Savory bites from Culinary rockstars Paula DaSilva, Burlock Coast and Jen Knox, Damn Good Hospitality + Resident Chef Rey De La Osa - Publix at Plantation

• One Pink Passport with six featured tastings from our Spirited South Florida partners Aperol Spritz | Misunderstood Whiskey | Papa's Pilar Rum | Slane Irish Whiskey | Treaty Oak Distilling | Tarpon River Brewery's Pink Slip Strawberry Hefeweizen

• Sweet Treats from Spirited Spirited South Florida's Cupcake Bar

🎶DJ Kent Lawlor will be spinning tunes through the decades.
Spirited SFL ConSPIRITors:

Aperol Spritz • Bloomer's Frosé • Chef de Cuisine Paula DaSilva - Burlock Coast • Crop Vodka • Corporate Chef Jen Knox - Damn Good Hospitality • Ellis Connects • Executive Chef Jeff Vincent - Funky Buddha Brewery • Hotwire Communications • Korbel • Milagro Tequila • Misunderstood Whiskey • Old Forester Bourbon • Papa's Pilar Rum • Resident Chef Rey De La Osa - Publix at Plantation • QuinnProQuo • Slane Irish Whiskey • Stache Drinking Den + Coffee Bar • Tarpon River Brewery • Waterloo No. 9 Gin